An employee spends an average of 21-35% of his life at his workplace. As a manager or business owner, it's important to ask yourselves, what kind of office do you want to spend about 1/5th of your life in? What is the environment you want to create so that your employees are productive and happy at work, and not lethargic and tired?
A creative workplace isn't just a place where you and co-workers can perform the work, but one where they can relax and love it. Setting up the right office furniture is a great way to create a functional and effective workplace – somewhere your employees can spend a major chunk of their lives in. Read on to find out the must-have office furnishings for a healthy workspace.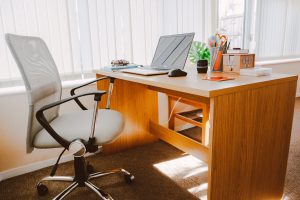 1. Ergonomically Designed Chairs
Your staff members spend quite a few hours at the office, which means it is very crucial to provide them with comfortable seating. With ergonomically designed chairs, you can never go wrong. They provide high levels of support to the back and encourage a healthy posture. Look for generously padded seats, height and tilt adjustment options and good seat depth and stability. With such options, you can easily accommodate most of the employees with different body types.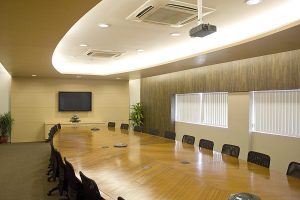 2. Boardroom Furniture – Communal Work Desk
The focal point of your meeting room is the table. You brainstorm ideas, sign contracts and make pitches with the clients over this surface – so it is vital that it's up to the mark and showcases your business' objectives. With a wide range of boardroom tables available with Adept Office Furniture, you won't struggle to find the one that makes the right statement about your organisation. From rectangular to round models and conventional wooden designs to modern high-gloss makings, there is a massive range of options to choose from.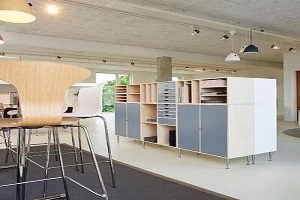 3. Storage Spaces
Surely offices are moving away from the endless rows of file cabinets to paperless options, but you will still need a safe place to store important paperwork and items. When it comes to safe storage options, you can rely on secure filing cabinets. They have easy-to-use locks and come in a variety of sizes and shapes. If you are looking to save space, go for under-desk pedestals. Similarly, if you need something sizeable, go for tall five drawer models. At Adept Office Furniture, we have a vast range of office filing cabinets to suit your office storage needs.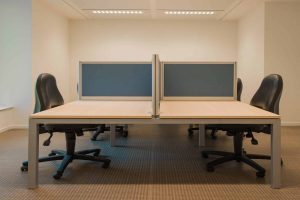 4. Desk or Floor Screens
Noise is a frequent hindrance in open work areas. The simplest and the most-effective method to control noise levels is to install office screens. Choose desk screens or floor standing ones, or use a combination of both – whichever suits your workplace. For optimum sound absorbency, pick screens that have a thick layer of acoustic foam to soak up background noises in open plan environment. Along with reducing excessive noise, these accessories can provide employees with superior privacy.
We know that every office is unique and so is its furniture requirement. However, choosing the right furniture will determine the productivity of your employees and make the running and success of your business all the time more seamless. At Adept Office Furniture, we have a vast range of ergonomic chairs, office desks, reception tables, conference room tables and a lot of other furniture options to suit every type of office. For more information about the furniture we supply for offices, don't hesitate to get in touch with our team today on
(03) 9484 0766
.